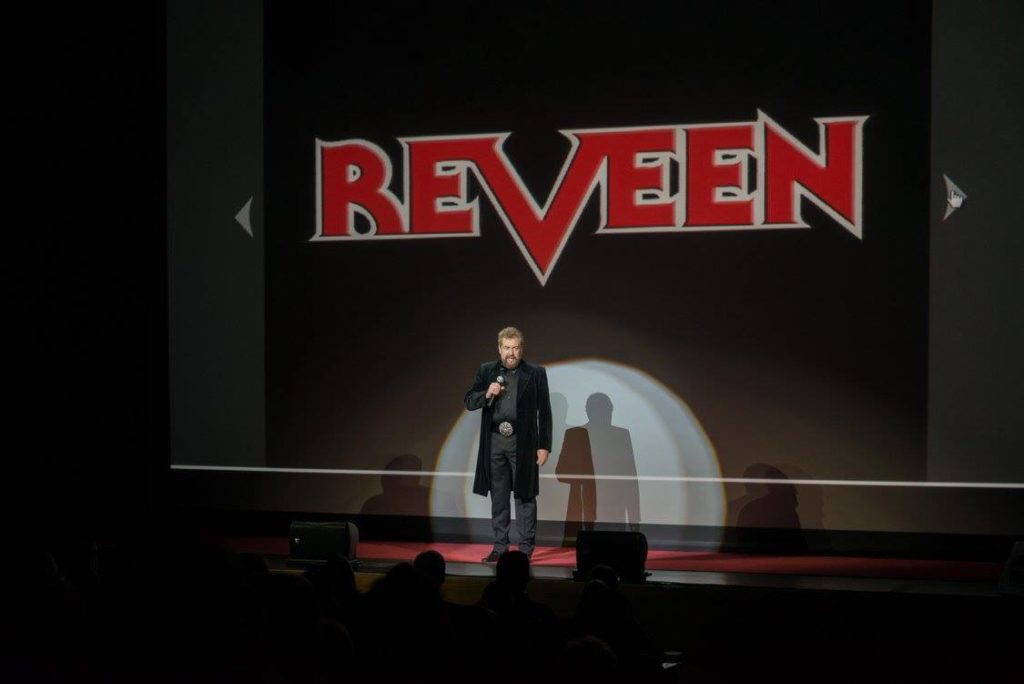 Reveen continues the legacy in Prince George
Audiences could never forget Reveen but try being a Reveen. Imagine yourself behind the curtains of mystery that made for one of the most popular and enduring stage shows in Canadian history.
The man they call Reveen was an Australian immigrant who settled in New Brunswick where the family business is still seated. Peter Reveen was an illusionist and a hypnotist of the highest order. He was one of the founders of Magic Castle in Los Angeles, wrote the book The Superconscious World, won a Dragon Award for his contributions to the industry of performance magic, was the toast of Las Vegas where performance is king, but perhaps his greatest accomplishment was passing his legacy down to his children. He went behind the mortal curtain in 2013.
One of his sons, Peter Jr., became a member of the popular rock band Salty Dog.
Another of his four kids, Tyrone, joined show-biz in a different way at first, as head of Streamer Effects International. He patented the confetti cannon, for one thing, and so many more wild special effects for live shows. For all his childhood he was around the people, many of them famous and many of them unseen movers of the industry, and with the special effects company he was once again surrounded by the show-biz community.
But Tyrone Reveen had another urge. Behind the scenes was a successful spot for him but he knew the showmanship like his own bloodlfow. His dad didn't so much prepare him for being a stage illusionist and hypnotist as he did just live it out with his family as a matter of normal life. Tyrone is one of those people who can fall asleep during a root canal because he knows how to talk himself into deep mental states as easily as changing his socks.
Designing and fabricating the machines of entertainment was fulfilling, but being the entertainer was like a full moon to a werewolf.
The Reveen show is now on the road again, and this time, it is the son under the familiar banner etched by the father. To stand in that spotlight though, having been one of the crew members his whole upbringing, always very close to the storm but never the lightning rod, required him to take to heart the words of his father. Remember, illusion and magic acts are tricks – hypnosis is not. He had to use it on himself in order to walk out into the centre of attention and profess to know what he was doing.
"As I was rehearsing the show I would get a picture in my mind of the audience staring at me, and I would tell myself 'they are all staring at you,' and it's not going to bother you. It's part of the conditioning – the fact that I embraced it. And that is what the superconscious state is. It takes people into a deep state of relaxation through a series of positive suggestions, and then it convinces then that their negative selfconcious fears are a useless, destructive form of energy. You want to eliminate it from the way you think. Once you do that, you can be convinced, once you are alleviated from your negative fear, your sense of confidence can reach heights most people basically only dream of."
The demonstration of that power is simple and comical. Reveen brings willing audience members on stage and together as a group, they are taken to their highly suggestible state. Then, the people on stage do things that are baffling, and far outside their normal inclinations, or even their previous capabilities. It's proof of the untapped power of the human brain and it's also a lot of fun. Reveen makes sure the behaviours in the spotlight are funny, never ill-tempered or in poor taste.
It's made for a legacy. Many stage hypnotists have come after Reveen (the senior) but none have caught the international consciousness like he did. It was a show that promised adventure, wonder, and fun. It was also the perfect thing to use as a first date.
"I heard that story hundreds of times, as I grew up," Reveen said. "It makes you feel that its all worth it, when you make people laugh and have a positive effect on people, and you're part of the start of a relationship."
There are relationships with places as well. When you tour enough to meet six million fans, the map gets a workout.
"This is the beauty of it," said Reveen, looking at his Prince George calendar date. "My parents used to put us in boarding schools when they were doing heavy touring. One of them was in Vernon. I met some friends there from Prince George, the Swankys. I would spend my summers with the Swankys. I have the fondest memories of Prince George, as well as the dozens of times I was there with my father on tours. I just love Prince George, I can't wait to get back there."
The man they call Reveen will be at Vanier Hall on Saturday night.
– See more at: http://www.princegeorgecitizen.com/entertainment/local-a-e/reveen-continues-the-legacy-in-prince-george-1.13419613#sthash.i7OuY91P.dpuf